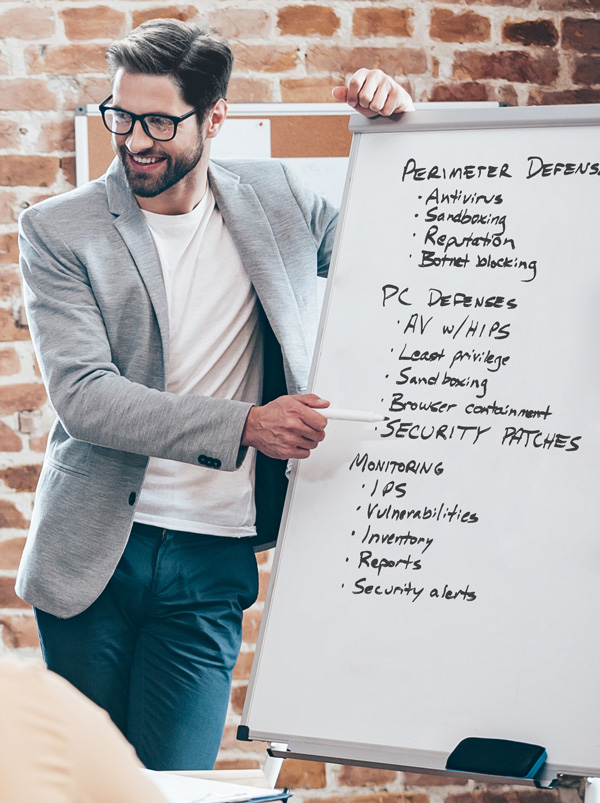 Ask us for advice!
Lithik is dedicated to helping you keep your organization safe. We know how to build secure networks, and we love sharing that knowledge with others. We offer recommendations for a complete network architecture that is designed to keep you safe for as little money as possible.
The Lithik Security Manager (LSM) is an important part of a secure network, but not the only part. Selecting a firewall, antivirus system, intrusion detection and prevention systems, etc. are all important decisions that have the potential to waste your money on something that won't end up being helpful. Whether you're still making a selection or want help setting it up, give Lithik a call. We have a wealth of experience on what works, what doesn't, and what's worth buying. Whatever your question, we'd love to answer it!
Some of the most common questions we answer are about:
Secure Network Architecture
Product Recommendations
Firewall Configuration
Security Policy
Whatever your IT security question, ask us! Don't guess, get an expert opinion.
What people are saying...
"I engaged Lithik Systems for a security project. Lithik exceeded expectations, created clear and detailed documentation as well as remediation suggestions. I would highly recommend Lithik to any business looking to test their infrastructure security and obtain recommendations for further hardening systems."
Troy Henley, Asst. IT Director
Business Advancement and Athletics
The Ohio State University