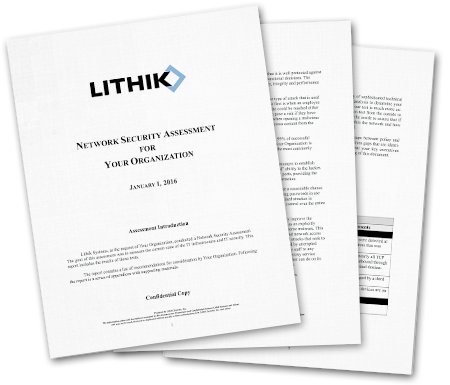 Accurate. Readable. Actionable.
A Lithik vulnerability assessment contains all the nitty gritty details you could ever want, but it also breaks down how vulnerabilities would be exploited, and what measures are necessary to mitigate those risks.
An audit review starts with an explanation of what Lithik considers to be the most likely way for a hacker to breach your network. We note how each insecure setting or vulnerability interacts to make a compromise possible, and then we detail any architectural changes needed to shut the door to unwanted intruders.
The next section of an assessment is a short list of the most pressing issues, complete with an explanation of why they pose a risk and how they can be corrected in a way that doesn't unduly disrupt daily business. If you still want more detail after that we provide cross-references to more verbose explanations of individual issues further down in the audit report.
Individual analyses of 53 different risk areas will give you a strong understanding of what you're doing well and what areas could be improved. We want to provide you with the most accurate assessment and understanding of your network that we possibly can, so there is no need to be shy about asking questions! If you have further concerns or take issue with a finding, we're happy to discuss it with you and, if necessary, issue a revised report.
What our customers are saying...
"Lithik took the time to help me remediate the problems after the audit was completed. They even tested some things for me a year after the audit was completed... I have had other audit firms who found problems but did not know how to fix the problems."
Ted Winner, IT Manager
Minster Bank
"I engaged Lithik Systems for a security project and an IT audit. Karl and his associates at Lithik Systems exceeded expectations, created clear and detailed documentation as well as remediation suggestions."
Troy Henley
Asst. IT Director of Business Advancement & Athletics,
The Ohio State University
"The security audit didn't interrupt daily activities at all. Setting up the machine was quite easy and the staff at Lithik was easy to work with."
Rusty White, Vice President
First Federal Savings & Loan of Centerburg